Uh, hi. This is my first time posting anything, but just wanted to share some things I found intresting in the game
Spyro: Year of the Dragon
(or Spyro 3). I'm not sure if anyone's done these already, but I didn't see them in the official stuff, so here I am.
Please forgive me if I'm wrong.
This first picture is of a character named Tara, who's been running around raiding some ancient ruins. She's a mouse with long brown hair tied in a braid, has big balloon breast, a British accent, and a very familiar wardrobe. I believe this to be a refrance to
Tomb Raider
,
Lara Croft
.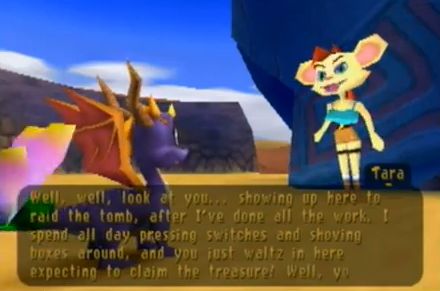 This second picture is of Moneybags making what I believe to be a
Sonic the Hedgehog
refrance after you refuse to pay him money to extend a bridge.
I'm not sure if it's just for fun, or for promotional value, or both, but I found it intresting. There may be more game refrances in
Spyro: Year of the Dragon
that I may have missed.
Sorry for wasting your time, I'll shut up now.